Services:
Music Recording, Mixing and Mastering
Voice Recording and Production
GoodTone Media Publishing & Licensing
Sound Design, Dialog Editing
Jingles, Voice Direction and Audio Post for Advertising
Music composition for Film, Television and Games.
Megasonic Sound is an Oakland, CA based production facility. We serve the entire San Francisco Bay Area and all points beyond. Managed by Grammy nominated Producer / Engineer Jeremy Goody, the studio is also utilized by a number of other talented Producers and Engineers.
Facility:
Megasonic was designed by TEC Award winning Pelonis Acoustics.
Comprised of the Control Room, two differently sized performance rooms, a kitchen/iso and hallway/lounge.
The Control Room is designed to provide a neutral atmosphere for relaxed tracking sessions, long production work and detailed mastering sessions.
The two live rooms allow for a variety of tonal and logistical options. The layout of the rooms offers good visual communication along with complete isolation of individual instruments. The Larger of the two rooms has a clarity of tone and wonderful presence. The smaller of the two has a dry intimate tone. Custom RPG acoustical treatment throughout ensures an even, balanced production that doesn't suffer from any unexpected equalization issues or tonal inconsistencies.
Dimensions:
Control Room       21.5′ x 18′
Live room A          24′ x 17.5′
Live room B          14′ x 10.5′
Kitchen / Iso.        11′ x 7′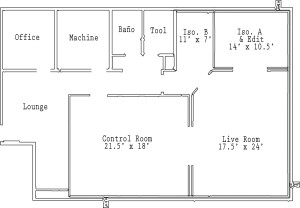 Equipment:
Pro Tools HD version 10 with 24 I/O
Custom monitoring by Pelonis Acoustics
Yamaha C3 Conservatory Grand Piano
Contact Us with any questions you might have.